Authentic and latest information and reviews for Allen Career Institute,JEE, Engineering, Mumbai
ALLEN are committed to intellectual, spiritual, social and overall development of the students. The team of experienced and stable faculties along with strong academic and administrative system supports students in learning by sharing of knowledge, self practicing through smart study material and attaining confidence and time management skills through intelligent test system. Motivation, guidance and personal care lead them to achieve their best ranks in JEE and other Engineering
Entrance Examinations. We provide three layers of preparation for- Boards, JEE Main and JEE Advanced.
Intelligently crafted JEE Division at ALLEN closely moulds and crafts the aspirants with what they want to be, where they wish to go and how they want to make it. Every student at ALLEN is a mission for them.
JEE preparation requires a sharp, curious and keen mind, focused attention, consistent efforts and strict discipline. Targeting an Engineering career with the firm foundations at ALLEN is advantageous for the students and gives them an edge.
The prodigy of ALLEN has already gathered a lot of attention of IIT aspirants all across the country. The classroom student of JEE division has proved its excellence by producing best result in IITJEE 2012 not only in Kota but in entire Bombay Zone, which proves the efficacy and effectiveness of ALLEN supportive system and competitive environment with large pool of talented students.
Faculty of JEE division is the blend of vision and enthusiasm consists of IITians and vastly experienced faculties from the education industry. Course contents are developed after extensive study of competition, research journals and fundamentals. Utmost care is taken in the preparation of test papers so as to assure the perfect coherence with the real test papers.
Below you can find review submitted by ex- and current students about Allen Career Institute,JEE, Engineering, Mumbai. Information is also available on the teachers, reviews on them, tests, courses they offer etc. The reviews will help you decide whether this is a right coaching for you to spend your money at or you should go and look for other classes which can help you succeed in IIT-JEE. We also provide latest information on test series, results and the facilities offered by the coaching, thereby helping you make an informed decision backed by reviews submitted by several of the students. You can also ask Question to our experts and other students in Q & A section below. You can read and submit reviews in the 'Reviews' tab below
Overall Reviews
Allen Career Institute,JEE, Engineering, Mumbai
Rated
2.75

/5 based on

0

reviews
About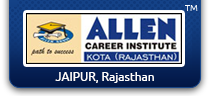 Batch wise classes having limit students are held in morning evening sessions,separately for CBSE English & Hindi Medium Students in air-conditione spacious lecture theatres equipped with high quality Wi-Fi audio-video systems.
Doubt Sessions : These sessions are regularly scheduled inons are regularly scheduled in  Time  Table  and  also  separately arranged  for  those   students   who require extra assistance for for clarification of their  doubts.  These sessions a optional.
Board Classes:SUDRADH
It  is  flexible  programme in  which multiple  options are   given to students  to  attend  concise  board classes of entire  syllabus of Physic Chemistry, Mathematics,  English and Physical Educaotionn (as per th time   suitability)  to  enhance there performance in board  exams alo with JEE.
Teaching consists of concept building classes, smart study material and intelligent test system. To achieve best all-round performance, student are prepared in three layers – for Boards, JEE MAIN and JEE ADVANCED, assisted with doubt removal counters for extra help.
Special classes / workshops for boards, BITSAT, KVPY and Olympiads are also conducted apart from regular classes. There are lab facility for science practical and computer lab for Online Test Practice.
Students batches are shuffled according to their performance to promote them to get their best result. Ultimate system of personal care and academics guidance is put in place, helping us to get in touch with our students for monitoring their performance and activities which leads them to success.
Along with these parameters students moves forward in achieving success in JEE to accomplish selection with starry heights, with thoughts of prosperity and or their career at large. At ALLEN the ways to career in engineering are made simple.
For better familiarization with JEE examination and continuous
practice , Periodic Tests are conducted to evaluate students performance and to develop their capabilities to respond promptly to all types of questions, to improve speed and to identify weak areas.
Profile
AC classrooms
Doubt Sessions
Hostel
IIT-JEE Focused
Individual subject coaching
Library
Mock Test
Online Attendance Tracker
Online Progress Tracker
Online Tests
Scholarships
Separate Test Series
Study Material
Courses and Fees offered at Allen Career Institute,JEE, Engineering, Mumbai
Contacts
http://jaipur.allen.ac.in/AboutJeeAdvanced.aspx